Print This Page
Cholesterol may deposit in the walls of the coronary arteries, causing them to become narrowed or blocked. The deposition of cholesterol plaques in the walls of arteries is called atherosclerosis.
When coronary arteries become so narrowed, they may impede blood flow to the heart muscle. This may result in chest pain (called angina), may cause a heart attack, and may result in a weakened heart muscle.
The cholesterol plaques can spontaneously rupture which causes a blood clot to form within the artery and results in a sudden lack of blood flow (and thus oxygen) to the heart muscle. This is called a heart attack, or myocardial infarction. It is not entirely clear what causes certain cholesterol plaques to rupture.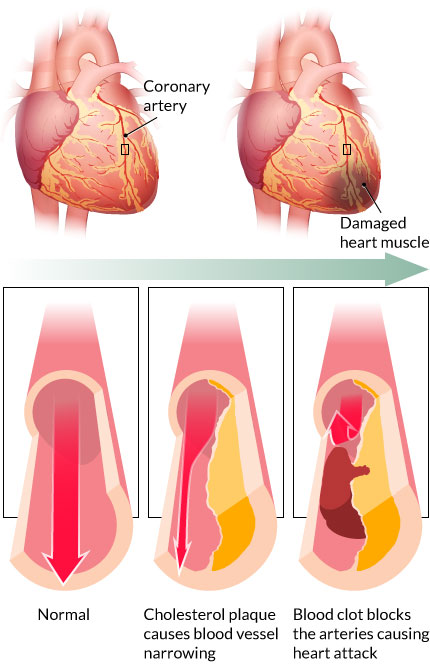 There are a number of tests that can be performed in order to diagnose the presence of coronary artery disease. These include different types of stress tests. The stress may either be exercise on a treadmill or bicycle, or a 'pharmacologic stress' (using a medication to stress the heart).
Risk factors for atheroscerlosis:
high blood pressure
high cholesterol
diabetes
smoking
older age
inactivity
obesity
family history of heart disease