Print This Page
Watch this short video on "Exercise and Heart Failure" and read more information below.
A regular exercise program has many benefits for patients living with heart failure. Aerobic exercise provides a 'work out' for the cardiovascular system. Aerobic training can strengthen your heart, lungs, and improve how oxygen is delivered throughout your body.
Exercising regularly can make you live longer and decrease the need for admission to hospital to treat heart failure. Other benefits to your health may include:
Better energy levels
Increased physical strength and ability to exercise
Weight loss
Improved management of other medical conditions, such as: diabetes and control of blood sugar, blood pressure and cholesterol levels
Management of stress
Improved quality of sleep
Decreased symptoms of depression
Is it safe for me to exercise?
You may feel uncertain about starting an exercise program. The first step is to talk to your health care provider to find out if it is safe for you to exercise and what type of exercise or program is best for you.
What are examples of aerobic exercise?
Moderate intensity aerobic exercise is best for the cardiovascular system. Examples of this type of exercise include:
Brisk walking
Swimming
Cycling (either outdoor or on a stationary bike)
Water aerobics
How should I start exercising?
Starting a new exercise program can be hard at first. It is best to start slowly, go step-by-step, and take breaks whenever you need them. Also, it is important to monitor how you feel during exercise.
Plan to start exercising 2 to 3 times each week. Slowly work your way up to an end goal of exercising 5 days each week.
Start by exercising for 10-15 minutes at a time. Slowly build up the time you are exercising. Your end goal should be to exercise for 30 minutes.
Always make sure that before starting to exercise you 'warm-up' and at the end of your program you 'cool-down', for about 5 minutes. Stretching exercises are best. This will help to reduce the stress on your heart, muscles and prevent injury.
Make an exercise schedule for each week and try and stick to it.
Use a diary or journal to track your exercise routine and how you are feeling during exercise.
Use a self-monitoring tool, such as the Borg Rating of Perceived Exertion (RPE) Scale, to help guide how you feel during exercise. This is a numerical scale that you can use to monitor how hard you are working during exercise. The goal is to be between 3 – 5 on the scale.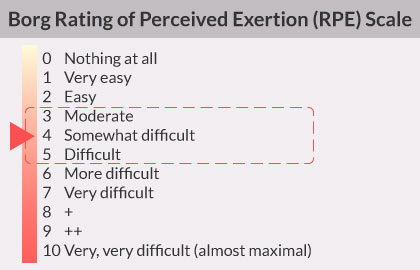 Strength or Resistance Training
Strength or resistance training may be useful to build into your exercise program. It has been shown to improve muscle mass and tone, and quality of life.
Use light free weights (no more than 5-10 lbs.) or resistance bands
Do short sessions of 10-20 repetitions, 2 to 3 times per week
Cardiac Rehabilitation
Joining a cardiac rehabilitation program is an excellent way to learn how to exercise and is recommended for all patients with stable heart failure.
Cardiac rehab will provide you with an 'exercise prescription' that is tailored to your health needs. While in cardiac rehab you will be supervised during exercise. You will receive training on how to exercise safely, monitor your symptoms during exercise, and reach your individual exercise goals. For those people who cannot attend on-site, home-based programs are also offered which include ongoing contact with exercise specialists.
Education and support are also provided in cardiac rehab on how to manage risk factors for heart disease, such as eating a healthy diet and losing weight.
Studies have shown that being in a cardiac rehabilitation program can make you feel better and live longer.
You should not exercise if you have any of the following:
Feel unwell, such as if you have a cold or flu
Worsening fatigue
Chest discomfort
Worsening shortness of breath or cough
Waking up in the night from sleep because you feel short of breath
Your weight has increased due to fluid build-up
Increased swelling in the feet, ankles, legs, or belly
Nausea or loss of appetite
An irregular heartbeat or you feel your heart is beating too fast or slow
Dizziness
Tips for Exercising Safely:
If during exercise you develop chest discomfort, worsening shortness of breath, dizziness, nausea or a fast heart rate, stop exercising and speak to your health care provider.
Don't exercise in extreme temperatures, such as days when it is very cold, hot or humid. In this weather, it is best to exercise indoors.
Avoid sudden stop-and-go types of exercises.
Wait at least 60-90 minutes after eating a meal before exercising.
Avoid exercises that involve holding your breath or bearing down, such as pushups and sit ups.
Take Home Messages
Exercise is essential for maintaining good cardiovascular health.
Having heart failure does not mean that you cannot exercise. In fact, studies have shown numerous benefits of exercise in people with heart failure.
Enrolling in a cardiac rehabilitation program may be an option for you. These programs are an excellent source of information and provide an environment to exercise in a supervised setting.
Ideally, one should be getting regular physical activity (30 minutes per day, 5 days per week). You may need to gradually build up to this level of activity.